Italy v England: How Can Southgate Bring It Home?
England have reached their first major tournament final for the first time in 55 years. Always good to see a nice, round number. This has understandably excited the nation that has previously been so used to disappointment. However, this game has all the potential to surpass the disappointment of the past 55 years and leave Italy fans being the ones singing the celebratory songs. Italy arguably have been the best team throughout this tournament and England will need to be at their best to "Bring it Home".
What makes Italy deserving finalists?
Italy are unlike many nations as their national team has been steadily built and joined together over several years. This all started in 2018 when Italy failed to qualify for the World Cup. Former Manchester City manager was hired in order to steady the ship and build again for the next tournament.
Since then, Mancini has installed a club-like atmosphere and playing style. This makes them one of the most exciting teams and one of the most threatening.
They have many components that make them so successful. Lets focus on what they do in possession as there has only been one game this tournament where the Italians haven't had the majority of the ball so we will probably see similar patterns develop on Sunday. Also, this article is going to be long so I will avoid writing a novel by just focusing on Italy's possession play.
Italy plays a 4-3-3 which has not been diverted from during this whole tournament. The centre backs, while they may be older than the internet itself, are arguably one of the best partnerships in the tournament. Bonucci has an incredible passing range which adds a lot of verticality to Italy. Italy's strikers therefore can have multiple ways of getting chances. This happened against Spain where Bonucci specifically targeted Laporte with his long balls which Immobile would run onto. Chiellini is not so intricate. He is a traditional, strong and intelligent centre back who will win the majority of aerial duels and stop many chances. England could have issues with this partnership as they can simultaneously shut down opposition chances while creating chances for Italy. However, I will discuss later how this partnership is not perfect and can be exploited.
Moving on, we get to Italy's strongest area. Their midfield usually consists of Jorginho, Verratti and Barella. This midfield is very strong and balanced. The majority of how Italy build up is done through Jorginho as he has an impressive passing range and is very press resistant due to his intelligence. Against Belgium, he made 24 passes into the final third. These passes create many opportunities for Italy and allow players like Verratti to get higher up the pitch. Speaking of Verratti, he is a remarkably aggressive presser. He tends to go higher up the pitch while Italy are in possession in order for him to be able to step into Italy's front 4 when they are pressing. This is beneficial as Italy press in a front 4 will match up to a backline and Verratti is a key component in this system due to his aggressive tackling. Since recovering from his injury, Verratti leads Italy in terms of number of tackles attempted. Berrella is a more traditional box to box. However, he does possess all the attributes needed to be successful. He has amazing technical ability on the ball as shown in his goal against Belgium. This adds up to one of the most technically gifted midfields in the tournament and England will be given a difficult time by these players.
Finally, we shall talk about how their front line works. I have neglected to mention the fullbacks in this piece so far, however it is necessary to mention that they are a significant influencer in Italy's attacking ideas. Formerly, Spinazzola would start at left back for Italy and in possession he would push to pretty much the opposition's full backs and beyond. Due to his injury though, Emerson will probably play. This will not change the roles or philosophy but Italy could be less effective due to the changes.Italy's front 5, as I will call it, (consisting of Immobile, Chiesa, Verratti, Insigne and Emerson/ Spinazzola) all attempt to find little pockets of space. This usually involves Chiesa and Insigne starting wide when Italy have possession deep. Then, inverting into more central areas and occupying spaces in between the midfield and attack. The empty space left behind is typically filled by the aggressive left back. This means that the defending full back now has a choice between marking the aggressive full back or marking Insigne. This ultimatum is similar to the one I described Germany creating. The effect this brings is that Insigne has room to cut inside which he did against Belgium very well.
We can see here that Spinazzola being high and wide has pushed back the Belgian full back, allowing Insigne to have a midfield 1v1 which is not ideal for Belgium. His ability then to finish means that he is fully effective in this role.
The front 5 also allows Italy to progress possession easier too as all members are looking for space which will unsettle the backline and create gaps which progressive passers like Jorginho can exploit.
How do England stop this then?
I have made Italy sound like an unbeatable beast here. Despite this, they still are beatable just like every team has been in this tournament. One of England's biggest reasons for them progressing is their control over randomness. They reduce the chances of them making mistakes by being structured and conservative in defence and attack. This is really good for them as it means that England can dictate the pace and control games therefore baiting out mistakes from oppositions which typically is how they will create chances.
Against Italy's playstyle, this will be tested. As long as England are not baited into allowing too much chaos from being created, they can win this game.
One way they can reduce this chaos is by being very clever with when to pass it out from the back and when to just go long when you recover the ball.. England will not want Italy winning the ball deep into their midfield so should prioritise long clears to relieve pressure on occasion. As previously discussed, players like Verratti are really skilled at recovering the ball when pressing and so, England should aim to nullify his strength.
Players like Rice are specific targets for presses as Denmark showed. He tends to receive the ball with his back to goal and therefore is unaware of what is behind him.This makes him very vulnerable to a midfielder stepping in and taking the ball off him. To reduce the chances of this happening, it is essential that Rice receives the ball on the half turn which may sound like a small change but turnovers in possession in the midfield area where Rice operates are some of the most dangerous especially against an aggressive Italy side.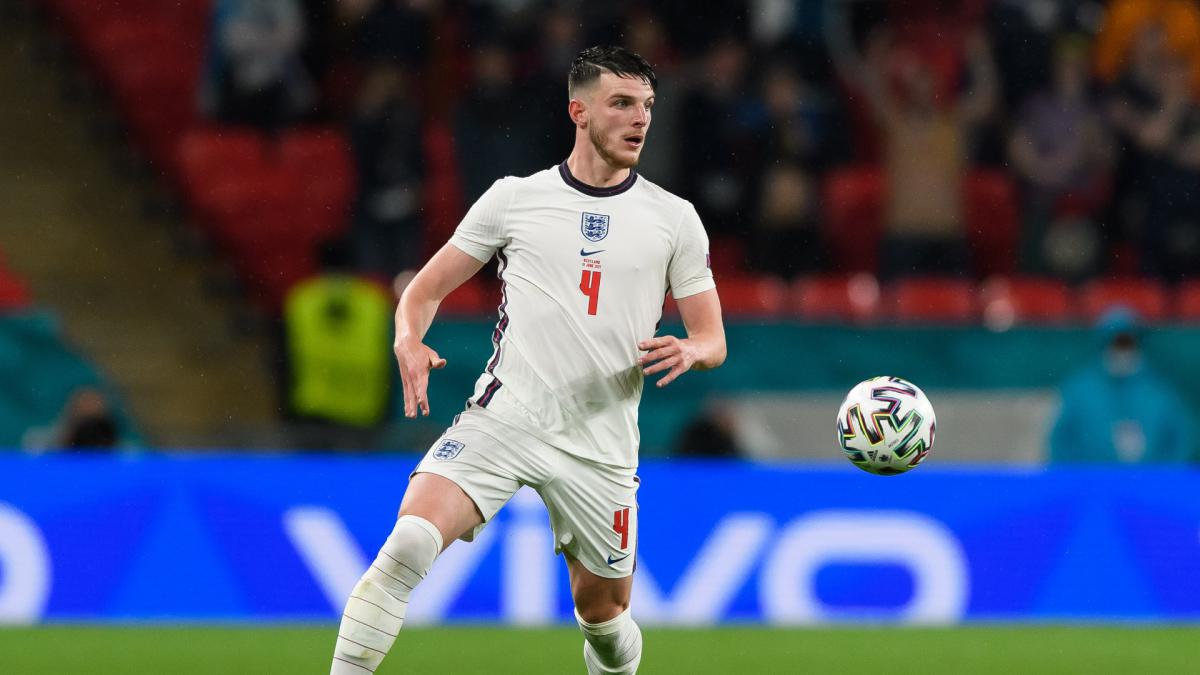 To also reduce the randomness in games, Southgate encourages his team to start both halves fast. This straight away sets the opposition on the back foot and allows England to dictate the pace of the middle portion of the game which reduces the chance of a team growing into a game.
Aside from controlling randomness, England have other strengths which they can exploit too.
Harry Kane may be slightly underperforming this tournament but could be massively important to how England succeeds in this game. Spanish attacker, Olmo, consistently found space in between Italy's midfield due to his "false 9" role. Kane can easily do this to a similar if not better level.
This will bypass the midfield quickly which England will want to do as Italy's midfield is just simply better. Therefore creating chances for Sterling and presumably Saka to run in behind and be found with a pass. Italy do have times where their press gets a little disorganised which was increased when facing the false 9 and England can create many chances from this avenue.
Similarly, England could bait an eager Italy onto them by having their backline start deeper in possession and then use Pickford's amazing kicking ability to find surging runners in behind the defense. England did this a lot against Croatia and one of the biggest weaknesses of the Italy center back partnership is that they are not the quickest of players. This could create many chances for England in behind and force Italy back which will alleviate pressure on the backline as Italy then have to be more reserved in their pressing.
Italy are tactically aware though and do have decent defensive shape when not pressing. However, England should not panic when facing a dominant team like Italy. They possess all the qualities to win this game. They should stick with their 4-2-3-1 and trust that they can win this one game. Southgate has equipped this team with all the game management and tactical flexibility needed and now it is just up to England to minimise Italy's threats and maximise their own strengths. After 55 years, it is more than overdue. We can only hope for England to make the nation proud and bring it home!